Next Day Delivery Policy
Next Day Delivery 
Next Day Delivery is available 7 days per week.
Next Day Delivery orders must be placed by 11pm Central to be delivered by 6pm the following day. If you're not home at the time of delivery, your order will be placed at your door or in an area hidden from street view, when possible.
If ordering frozen items, please plan for you or someone to accept the delivery in person. P&F Pet Provisions does not assume responsibility for any items that may spoil due to being left unrefrigerated following delivery.
Standard Shipping 
Standard shipping is available for select non- perishable items. All orders placed before 1pm Central will ship the same day.
We deliver within a 15 mile radius from our current location;
7816 Burnet Rd, Austin TX 78757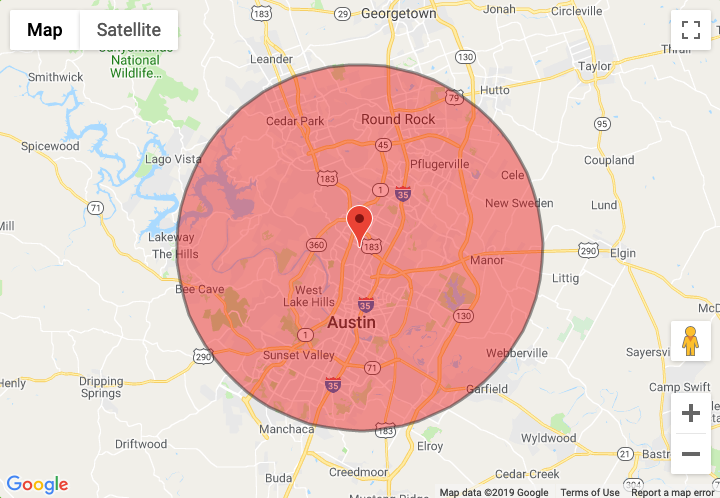 Here are the zip codes that fall within the radius.
| | | | |
| --- | --- | --- | --- |
| Austin TX 73301 | Austin TX 78727 | Austin TX 78756 | Austin TX 78789 |
| Austin TX 73344 | Austin TX 78728 | Austin TX 78757 | Austin TX 78799 |
| Austin TX 78701 | Austin TX 78729 | Austin TX 78758 | Bee Cave TX 78733 |
| Austin TX 78702 | Austin TX 78730 | Austin TX 78759 | Bee Cave TX 78738 |
| Austin TX 78703 | Austin TX 78731 | Austin TX 78760 | Cedar Park TX 78613 |
| Austin TX 78704 | Austin TX 78732 | Austin TX 78761 | Cedar Park TX 78630 |
| Austin TX 78705 | Austin TX 78733 | Austin TX 78762 | Del Valle TX 78617 |
| Austin TX 78708 | Austin TX 78734 | Austin TX 78763 | Dell Computers TX 78682 |
| Austin TX 78709 | Austin TX 78735 | Austin TX 78764 | Hutto TX 78634 |
| Austin TX 78710 | Austin TX 78736 | Austin TX 78765 | Leander TX 78641 |
| Austin TX 78711 | Austin TX 78737 | Austin TX 78766 | Leander TX 78645 |
| Austin TX 78712 | Austin TX 78739 | Austin TX 78767 | Manor TX 78653 |
| Austin TX 78713 | Austin TX 78741 | Austin TX 78768 | McNeil TX 78651 |
| Austin TX 78714 | Austin TX 78742 | Austin TX 78769 | Pflugerville TX 78660 |
| Austin TX 78715 | Austin TX 78744 | Austin TX 78772 | Pflugerville TX 78691 |
| Austin TX 78716 | Austin TX 78745 | Austin TX 78773 | Round Rock TX 78664 |
| Austin TX 78717 | Austin TX 78746 | Austin TX 78774 | Round Rock TX 78665 |
| Austin TX 78718 | Austin TX 78748 | Austin TX 78778 | Round Rock TX 78680 |
| Austin TX 78720 | Austin TX 78749 | Austin TX 78779 | Round Rock TX 78681 |
| Austin TX 78721 | Austin TX 78750 | Austin TX 78780 | Round Rock TX 78683 |
| Austin TX 78722 | Austin TX 78751 | Austin TX 78781 | Sunset Valley TX 78735 |
| Austin TX 78723 | Austin TX 78752 | Austin TX 78783 | West Lake Hills TX 78746 |
| Austin TX 78724 | Austin TX 78753 | Austin TX 78785 |   |
| Austin TX 78725 | Austin TX 78754 | Austin TX 78786 |   |
| Austin TX 78726 | Austin TX 78755 | Austin TX 78788 |   |